There's still a bit of a stigma surrounding the mental health industry. People are reluctant to admit that they could benefit from therapy, because they feel it indicates that they are in some way deficient. This couldn't be further from the truth. The truth of the matter is that most of us could benefit from some form of therapy, mostly because an objective listener can give us added insight into both the small and large things we struggle with on a daily basis. We haven't failed just because we'd like some outside help, or an empathetic ear.

Consequently, no matter how serious your cancer diagnosis is, or how well you think you're handling it, a therapist can help. Individual therapy alone could improve your mental state, and help you work through the complex and conflicting feelings you may be experiencing as a result of your health issues. But you should also keep an open mind in regards to both couple therapy and sex therapy.

Couples therapy can facilitate the communication of things that, for some reason, you've been struggling to share with your partner. It can help you learn things about what your partner has been feeling that you were previously unaware of. As strong as the two of you are, it can help to make your relationship even stronger.

And if you've been struggling with intimacy in particular, you should consider a sex counselor… someone who can pinpoint the things that have been holding you back in bed, and who can give you homework and pointers that will enable you to regain the sizzle in your sex life.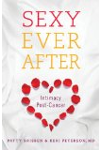 More About this Book
Sexy Ever After: Intimacy Post-Cancer
Recent studies show that 40-100 percent of men and women who have been treated for cancer have experienced some level of sexual dysfunction. Sexy Ever After: Intimacy Post-Cancer will help you...
Continue Learning about Cancer Treatment