Monogamy can be an exercise in infinite patience (why are your dirty socks lying next to the hamper!?) and, when you add in the stress of serious health issues like cancer, keeping your cool can seem even more daunting. Look inward before losing your temper. Ask yourself: Why am I really angry and/or frustrated? Is this something we should sit down and talk about? Is it something I can fix on my own? Is it worth worrying about at all?

And, as that last question implies, know how to choose your battles. If your partner's been driving you up a wall lately, give them the benefit of the doubt. You've both been through a lot lately, and your coping mechanisms may be clashing. Instead of thinking downbeat, unconstructive thoughts about your partner, write down a list of all the reasons you love them. Remember the things that made you fall in love, and then remember the reasons you still love them. Look over this list and realize that both you and your partner deserve a bit of leeway.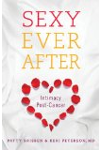 More About this Book
Sexy Ever After: Intimacy Post-Cancer
Recent studies show that 40-100 percent of men and women who have been treated for cancer have experienced some level of sexual dysfunction. Sexy Ever After: Intimacy Post-Cancer will help you...
Continue Learning about Cancer Treatment