Persistent fatigue is one of the most commonly experienced cancer symptoms. It's also usually the case that the more fatigue, the more advanced the cancer -- both malignant and benign. Cancer is a prime example of a disease state whereby the body is not performing at 100 percent as it creates unhealthy cells that further disrupt other systems. The mere presence of cancer can increase your body's need for energy, weaken your muscles, and alter your hormones -- all of which lead to fatigue. Needless to say that adding any treatments like chemotherapy on top of that and you can see why cancer patients feel chronically tired.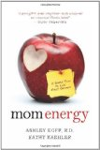 More About this Book
Mom Energy: A Simple Plan to Live Fully Charged
       From celebrated dietitian Ashley Koff and fitness trainer to the stars Kathy Kaehler comes Mom Energy, an exciting new way for moms to tap into their own natural and renewable sources of...
Continue Learning about Cancer Symptoms