Green tea is recommended as a preventive measure against cancer for healthy people as part of an overall diet that should include fruits, vegetables, whole grains and limited-to-no processed meats or sugary drinks. Dietary recommendations include natural antioxidants and other chemicals that have been found to help fight cancer and other chronic diseases through numerous studies and clinical trials.
However, taking supplements, which can have adverse side effects, is not recommended, especially if you have cancer and are undergoing active treatment. Most vitamins and other supplements—some derived from natural chemicals found in plants—that are heavily marketed in the United States are not regulated by the government. Moreover, these supplements have to be detoxified by the liver, which can put people with cancer at risk because they are already "overloading" their liver through chemotherapies and other treatments.
A substance that appears promising in the prevention of prostate and breast cancer is green tea.Several studies of East Asian populations found that men who drink large amounts of green tea have lower rates of prostate cancer, and women who consume large amounts of green tea have reduced rates of breast cancer.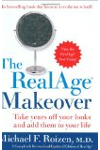 Green tea can help prevent cancer because it has very high levels of polyphenols, chemicals that help protect us from cancer. In this video, disease prevention specialist William Li, MD, explains why green tea is such a strong cancer-fighter.
Continue Learning about Cancer Prevention