Here are some tips to get less calories from red meat:
Enjoy red meat twice a week. If you choose extra lean cuts, and stick to the appropriate serving size, you can eat it three times a week.
A serving of beef is about 3 ounces—the size of a deck of cards.
More often than not, choose loin or round cuts.
Try bison—it is much lower in fat than many cuts of beef.
Broil or grill rather than panfry.
Drain the excess fat from ground beef before you add it to a sauce.
Leftovers count toward your two servings per week.
If you order a red-meat entrée served with a sauce, request the sauce on the side.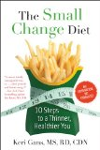 Continue Learning about Calories