If you need to increase your caloric intake, get the extra calories you need by increasing the number of servings of vegetables, nuts, and legumes, as these are the best foods for improving blood sugar control. Athletes or people engaged in heavy physical labor or exercise should add another serving of seafood, meat, or poultry to their daily intake or add a soy protein or whey protein smoothie to provide an additional 25 to 30 grams of protein.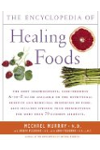 More About this Book
Encyclopedia of Healing Foods
From the bestselling authors of The Encyclopedia of Natural Medicine, the most comprehensive and practical guide available to the nutritional benefits and medicinal properties of virtually everything...
Continue Learning about Calories
Every time we talk about food it seems we also talk about calories. Calories, those numbers found on nutrition fact labels and what diets tell us to watch. Calories are really the measure of how much energy is available to our bod...
ies from what we eat. Every calorie is the same, whether it comes from legumes or lard. We burn calories from food when we perform any activity. When we eat more calories than we burn, then our bodies happily store the remaining calories as fat. Each pound of fat stores about 3,500 calories. How many calories you should have each day depends on many things, from your level of activity to your age and desired body weight.
More