When you eat the right combination of foods, you can eat until you're gently satisfied without focusing on calories or portion sizes, and excess weight will come off naturally. But since calories have been the focus of conversations around weight loss and health for so long, I'll put it this way: if you eat four Twizzlers -- a small amount by most standards -- you would consume about 160 calories, and it's unlikely they would put a dent in your hunger. However, for those same 160 calories, you could have a heaping spoonful of almond butter and a practically endless supply of cherry tomatoes, jicama, and celery. I think you'll agree which is the more filling option. Not only that, a snack of nuts helps stabilize your blood sugar and provides you with lots of vitamins, minerals and phytochemicals -- health-protecting substances that ward off diseases such as type 2 diabetes, heart disease, and alzheimer's disease. The Twizzlers? They have the opposite effect. More About this Book
The Blood Sugar Solution 10-Day Detox Diet Cookbook: More than 150 Recipes to Help You Lose Weight and Stay Healthy for Life
The companion cookbook to Dr. Mark Hyman's revolutionary weight-loss program, the #1 New York Times bestseller The Blood Sugar Solution 10-Day Detox Diet, with more than 150 recipes for immediate results! Dr. Hyman's bestselling The Blood Sugar Solution 10-Day Detox Diet offered readers a step-by-step guide for losing weight and reversing disease. Now Dr. Hyman shares more than 150 delicious recipes that support the 10-Day Detox Diet, so you can continue on your path to good health. With easy-to-prepare, delicious recipes for every meal - including breakfast smoothies, lunches like Waldorf Salad with Smoked Paprika, and Grass-Fed Beef Bolognese for dinner -- you can achieve fast and sustained weight loss by activating your natural ability to burn fat, reducing insulin levels and inflammation, reprogramming your metabolism, shutting off your fat-storing genes, creating effortless appetite control, and soothing stress. Your health is a life-long journey. THE BLOOD SUGAR SOLUTION 10-DAY DETOX DIET COOKBOOK helps make that journey both do-able and delicious.
In theory, a calorie is the same in all foods, but not when you consider how the body responds to calories from different sources. A chocolate chip muffin, for example, is chock-full of refined sugar and unhealthy fat that will likely get stored in your fat cells. This happens due to the spike in insulin that occurs when you eat that tasty muffin. The insulin tells your body to store the excess calories as fat. Eating a deli sandwich on whole-grain bread with bell peppers, sprouts, and avocado, on the other hand, won't cause the same surge in insulin and, in fact, requires time and an expenditure of energy to break down its proteins, healthy fats, and complex carbohydrates. The sandwich will keep your energy sustained and balanced.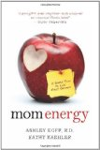 More About this Book
Mom Energy: A Simple Plan to Live Fully Charged
       From celebrated dietitian Ashley Koff and fitness trainer to the stars Kathy Kaehler comes Mom Energy, an exciting new way for moms to tap into their own natural and renewable sources of...
A calorie is a unit of energy, not food, so in that regard calories are all the same. But in foods, some sources of calories are more filling than others. Some of these foods leave you feeling full faster so your appetite is gone in a flash. Other foods with the same number of calories are less filling, keeping your appetite going and going and going. You want to seek out the first type of foods, so be sure to replace the less-filling saturated fats that you'll find in butter and fatty meats with the more filling polyunsaturated fats found in sources like avocados and nuts. You'll get the rich, delicious flavors you crave without packing on unwanted pounds.
This content originally appeared on
doctoroz.com
Theoretically, a calorie is a calorie. The big differences are how our body responds to the calories we consume and how those calories make us feel.

Consider the following example. Both a 24-ounce sugar-sweetened beverage and a grilled chicken sandwich (3 ounces grilled chicken, small whole wheat bun, lettuce, tomato, onion) both contain ~250-275 calories yet the body's metabolic response of these two items will be very different. How we feel after eating these two items would also be distinct. Because the beverage only contains simple carbohydrates and requires little digestion, it is quickly absorbed into the blood stream, causing a rapid rise in blood glucose. The chicken sandwich, on the other hand, is a combination of complex carbohydrates (including fiber) and protein. The fiber and protein both help to slow digestion and absorption, resulting in a slower, steadier rise in blood glucose. Foods that include calories from fiber and protein also help with satiety, keeping us feeling full for a long period of time.

These differences in how the calories are processed and how they make us feel can have significant implications for weight management.
Calories are all the same outside the body; but once inside, calories are used differently depending on the source and nature of the food consumed. Watch endocrinologist Reza Yavari, MD, explain how calories are metabolized differently in the body.
Yes and no. In terms of weight gain, yes, a calorie is a calorie. They all can be converted to fat, and will be if the amount that you take in is greater than the amount that you burn.

On other hand, for health – and even weight loss – what is actually associated with that calorie makes a difference. Does the calorie deliver something your body needs, or is it just a plain, empty calorie? Is it accompanied by good fats, lots of lean protein, and fiber? Or just a bunch of sugars, as in a soda?

If you're trying to lose weight, then having foods and calories that are accompanied by lots of fiber can help fill you up and keep you full longer. Lots of high-calorie foods are filled with lots of sugars – in which case, that's just empty calories.
Continue Learning about Calories