You should cut down on empty calories because there are no dietary benefits; instead, choose quality calories that are high in fiber and nutrients. In this video, I will explain why you should avoid empty calories.
When you eat empty calories, your body isn't getting any real nutrients, so you are going to feel hungry more often and eat more. In this video, registered dietician Sharon Richter explains why eating nutrient-dense foods is a better way to go.
Empty calories don't give you the nutritional boost you need for health or energy. They are lack-luster calories that only add to your backside. For example, empty calories can come from what you drink. It's not just sugary sodas that are adding to the obesity crisis -- it's fruit drinks, alcohol and a combination of other high-calorie beverages, say University of North Carolina at Chapel Hill School of Public Health researchers (November 2007 issue of Obesity Research, Kiyah J. Duffey). The study found that we consume 222 calories a day from beverages. If you add these calories onto your normal food intake and forget to count these calories, that is an extra 23 pounds a year that ends up on your hips. A great solution is to remember to log your liquid calories – because to lose weight, you need to watch your calories in and your calories out…if you take in the extra, you gain the extra…if it touches your lips, it ends up on your hips! You can cut your liquid calories easily by making better liquid calorie choices like:
- Making your milk skimMaking your soda diet
- Making your beer light
- Drinking a mojito instead of a margarita
- Choose a regular coffee with flavored creamer over your whipped cream favorite
- Or best yet, drink water! Brenda Davy, lead researcher from Virginia Tech, found if you consume 16 0z of water before you eat a meal you will eat about 100 less calories because that belly will feel fuller. The study also showed that after 12 weeks the water drinkers lost an average of 15.5 pounds!!
A few simple liquid adjustments will help you maintain your calories and you will see those hips shrinking right before your eyes!
As much as possible, avoid eating highly processed sugary snacks, sodas, and sports drinks. These foods contain lots of calories but little if any nutrients. They also make your blood sugar and insulin levels shoot up and then crash, which can contribute to health problems and weight gain.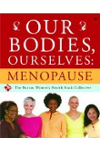 More About this Book
Our Bodies, Ourselves: Menopause
FROM THE EDITORS OF THE CLASSIC "BIBLE OF WOMEN'S HEALTH," A TRUSTWORTHY, UP-TO-DATE GUIDE TO HELP EVERY WOMAN NAVIGATE THE MENOPAUSE TRANSITION For decades, millions of women have relied on Our...
Continue Learning about Calorie Restriction and Weight Loss