The role of calcium in your body is keeping your bones strong and healthy. Calcium also helps your muscles and nerves to work properly.
Calcium is the most abundant mineral in the body. It constitutes 1.5 to 2 percent of total body weight, with more than 99 percent of the calcium being present in the bones. In addition to its major function in building and maintaining bones and teeth, calcium is important in the activity of many enzymes in the body. The contraction of muscles, release of neurotransmitters, regulation of heartbeat and clotting of blood are all dependent on calcium.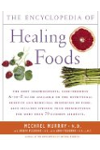 More About this Book
Encyclopedia of Healing Foods
From the bestselling authors of The Encyclopedia of Natural Medicine, the most comprehensive and practical guide available to the nutritional benefits and medicinal properties of virtually everything...
Calcium is the principal currency of bone. It carries a lot of weight in the body, both literally and figuratively. Not only is it the major component of the cement-like hydroxyapatite, but it also plays an important role in other body systems.
Buoyed along in the blood, lymph and other fluids, calcium bustles in and out of cells, transmitting signals to nerves and muscles. It is vital to many physical processes, including heart rate, blood pressure and the regulation of the internal organs. However, the amount of calcium required to do this is slight—only about 1 percent of your body's total calcium stores. The rest—about 2.25 to 4.5 pounds' worth—is sequestered in your bones. When the supply of calcium in the blood drops below the critical level, it can be replenished from bone.
Calcium is essential for strong bones and teeth, which is where 99 percent of this mineral is stored in the body. Calcium also plays a role in nerve-impulse transmission and in the constriction and relaxation of blood vessels and muscles. Approximately 88 percent of adult females and 63 percent of adult males don't get enough calcium.
Bone health
One of the most serious consequences of a calcium deficiency is that the body will actually leach needed calcium from the bones, which can lead to osteoporosis. A British study showed that risk of fracture was 75 percent higher in women whose dietary calcium intakes were less than 525 milligrams per day than for those whose intakes were over 1,200 milligrams per day.
Cancer prevention
A study of nearly half a million people by the National Institutes of Health found that diets rich in calcium from food sources may help protect against over 10 different types of cancer, the most common being prostate, breast, lung and colorectal.
Continue Learning about Calcium