You will get plenty of calcium from nondairy foods, such as legumes, soy nuts, calcium-fortified soy milk, artichokes, beet greens, broccoli, Brussels sprouts, cabbage, celery, carrots, collards, kale, lima beans, snap beans, spinach, and Swiss chard. Not only is broccoli lower in calories and high in phytonutrients, it one of the highest amounts of calcium among vegetables, with over 60 milligrams of calcium for one cup of cooked broccoli (or as much calcium as 2 ounces of low-fat milk).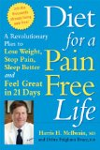 Broccoli, kale, canned salmon with bones (the calcium is in the bones), and tofu that is processed with calcium can also add calcium to the diet. Calcium-fortified foods, such as juices and cereals, are also excellent sources.

Spinach, rhubarb, and okra also contain calcium, but these foods are also high in calcium-binding oxalates, so less than 10 percent of the mineral is absorbed in the body. Continue Learning about Calcium