It may be displaced and need to be put back into alignment. Don't worry; you'll be given IV sedation for this. This is called reduction. Some fractures cause the bone to penetrate the skin. This is an orthopedic emergency, requiring an urgent orthopedic consultation. Some fractures can be splinted and will heal on their own. Some fractures require casts or an "ortho glass" splint. Other fractures, like rib fractures, require no treatment except pain control.
It is your responsibility to speak up if a treatment is causing pain. It's also important to follow instructions regarding splints, slings, crutches or casts. Failure to follow instructions could delay healing. Let your doctor know if you notice numbness or significant increase in pain without injury. Be aware that discomfort from a fracture can last four to eight weeks as the bone heals. A fracture happens in a second but takes months to heal. The good news is that it gets better with time, rather than worse. Special exercises and rehabilitation may be prescribed by your doctor to get you back to your old self.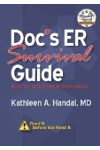 More About this Book
Doc's ER Survival Guide (DocHandal's Guides)
Few people get through life without at least one trip to the emergency room (ER), either as a patient or support person for a family member or friend. Doc's ER Survival Guide is designed to help...
Continue Learning about Broken Bones