A foot injury may feel like a broken bone but it may just be a bad bruise. In this video, orthopedic surgeon Anjan Shah, MD, of Brandon Regional Hospital, explains when to seek medical attention if you hurt your foot.
You'll need an foot x-ray to tell for sure whether you've broken or fractured a bone in your foot, but to complicate matters, bones break in many different ways, and subtle damage, such as a hairline fracture, can be difficult to detect. It can take two weeks for evidence of the body's attempt to heal a bone fracture to show up as an abnormality on an x-ray. So it's important to pay attention to symptoms.

One warning sign of a fracture is difficulty in walking after an injury. Don't be fooled, however. It's sometimes possible to walk on a broken foot, so check to see whether you have any pain or tenderness directly over the bone when you touch it lightly. Such focal pain may indicate a fracture, especially if it persists after you've rested briefly and followed the RICE regimen (rest, ice, compression, and elevation). Your best bet, if you have any doubts, is to get an x-ray, which may reveal whether you've broken a bone and, if so, whether it needs to be realigned. If an initial x-ray does not reveal a fracture, but the pain persists for more than 10 to 14 days, ask for a follow-up x-ray immediately to make sure your foot is not broken.
Continue Learning about Broken Bones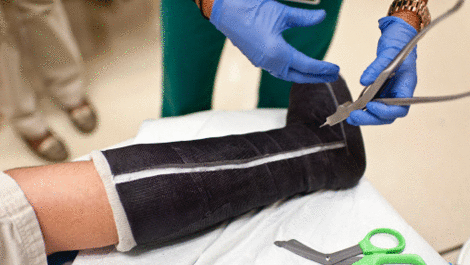 Bones break and fracture in many different ways. Symptoms could be slight or severe, ranging from swelling, bruising and pain to difficulty in using after an injury. To diagnose a break or fracture it may be necessary for your phy...
sician to obtain x-rays and occasionally a CT scan or MRI.
More