This is another biggie with breathing coaches because by putting up an obstacle you make conscious contact with your breath. By focusing on the out breath, more air goes out and when more air goes out, more air has to come in. Plus the simple act of pursing the lips forces you to breathe in a deeper, more diaphragmatic mode.
While this seems pretty benign at first, there are several benefits. By letting the air stream out as freely as possible through the straw, you actually expel more air than you ordinarily would. This is the key to increased inhalation. The pressure of the atmospheric air and the pressure of the air in the lungs have to equalize.
Furthermore, since the air can get out only slowly through the narrow straw, the diaphragm is forced to relax slowly rather than suddenly. Slow relaxation of the diaphragm improves muscle tone. As soon as your breathing apparatus is toned up, more efficient breathing follows.
It also gives you a simple and objective test to check the quality of your breathing. With the palm of your hand, feel the temperature of the first and last exhalation you let pass through the straw. You will discover the air at the end o f your session is considerably warmer than your first exhalation. As air coming from the deeper part of your body is warmer, this indicates your breathing is deeper, less superficial than when you began.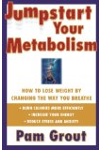 Continue Learning about Breathing Exercises