A good way to learn is to start by lying down, relaxing. Place a book on your stomach, right below the bottom of your rib cage. Take a deep, slow inhale through your nose, letting your belly expand like a balloon. Make sure the book is rising with each inhalation.

Now, let your abdomen fall as you exhale slowly through your nose. Press the air out, bringing that book back down. If you habitually breathe from your chest, breathing from your belly may feel uncomfortable at first. You might even feel you're delving out of control. Trust that you are in no danger and the feeling will soon pass. It's like learning to brush your teeth with your left hand when you've been brushing them with your right all these years; it just takes a while to get the hang of it.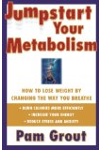 To do belly breathing, follow these steps: While lying flat in your bed, place both palms on your abdomen with your thumbs above your navel. Breathe in through your nose, filling your lungs. You should feel your hands rising as your lungs expand. Help your diaphragm by pushing your stomach out while you inhale. Slowly exhale through your mouth while tightening all of your abdominal muscles as tight as you can, pressing your spine to the bed. You should feel your hands drop down. Keep your chest and shoulders from moving. Practice for 5 minutes once per hour during your stay in bed. This allows your lungs to fill to capacity and get rid of carbon dioxide and other toxins that build up in your lungs. It also will help reduce stress and strengthen your stomach.
Continue Learning about Breathing Exercises