Deep breathing will "turn off" unnecessary muscle firing and provide oxygen rich blood for the necessary muscles to "turn on." Oxygen is needed for repeated muscle contractions. Deep breathing ensures your body is getting enough oxygen for muscles to work at an optimal level. Focus on rhythmic smooth breathing patterns, which will also cause relaxation.
Nowadays, there aren't many Olympic caliber athletes who don't pay attention to their breathing. It's just too important. The reason Jackie Chan and other martial arts bigwigs say "aa-ya" when they break boards is because that forceful noise directs the breath and the energy. When you breathe deeply through your nose, your muscles relax, your blood pressure falls, your nerves are calmed, and consequently you have more endurance, more focus, and fewer injuries.
In order to improve your serve or your golf swing or your time in a three-legged race, you should focus on lengthening the breath and coordinating it with the natural rhythms of your arms and legs. It will help your sport more than the best pair of shoes.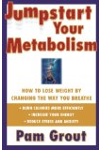 Continue Learning about Breathing Exercises