The best way to get past the crosses that you've unwittingly decided to bear is by breathing. It's that simple. When we practice breathing, we increase our ability to enjoy life.
What deep breathing does is retrain your nervous system to tolerate a higher charge of energy. If you practice it with any sort of regularity, you will find that you can feel good practically all the time. It'll be the crosses that don't feel natural. That's why most spiritual traditions of the world encourage their devotees to practice breathing. People's faiths are strengthened when they feel good.
Experts tell us we could be breathing in seventeen pints of air per breath. Most of us settle for a measly two or three. Now, I don't know about you, but if somebody gave me the choice of one or two chocolate chip cookies or seventeen chocolate chip cookies, especially with the guarantee that the more I ate, the more weight I'd lose, I'd go for the seventeen. Go for the breath.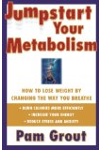 Continue Learning about Breathing Exercises