Yes, breathing promotes mindfulness. It forces you to stay in the present moment. It's pretty hard to think about what to wear next year to the company Christmas party when you're shooting great wafts of air into your lungs. Oftentimes, the simple act of paying attention is the button that activates your healing.
The other advantage to uniting your brain and your body is that when they work together as a team, miracles can happen. If you've been on the diet path for any time at all, you've certainly run across one of the many books on thinking yourself thin. These books stress the importance of your mental disposition. If your brain is constantly putting yourself down and calling you "a loser," how can your body really do anything productive?
It's a constant tug of war. Something is blocking the mind-body bridge - something like the subconscious, which believes it doesn't deserve to be thin or that it's really a fat pig and always will be. The good news is breathing can loosen that stuck lever - get the connection going again.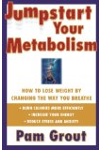 If left to our own devices, most of us will spend our entire lives regretting the past and being fearful of the future. We may be mad at something somebody said to us, anxious as to whether we're going to get somewhere on time, wishing we had spent more time with certain friends before they moved away, or unsure if a job we've accepted was the right move. But rarely are we fully present to the moment right in front of us. Rarely are we completely mindful.
Breathing can help remedy this. When we take full, long breaths, we set our own terms for any given moment. There may be all sorts of commercials, conflicts, and other ordeals happening all around us, but maintaining a slower breath allows us to let go of those various stimuli in favor of whatever task is at hand (driving, cooking, etc.). This allows us to react less to those stimuli and as a result we spend less time thinking about the past or future. And when we're fully in the present moment, we are wholly and completely mindful.
Continue Learning about Breathing Exercises