The whole point of breathing is to learn to trust yourself, trust your body. Right now, you think of your body as a willful child that you must control, that you must keep very close tabs on.
As you breathe, keep paying attention to your body and notice its divinity. If you persist in seeing it as a big bag of lumpy flesh, ask yourself, "What investment do I have in staying lumpy?" And then, as you breathe into the vision, watch while it floats off into space like the helium balloon that you bought for your daughter.
Now that that vision, thankfully, is gone, tell yourself this. My body is as smart as the dickens and it knows what to do without my help. Keep telling yourself that, if you'll just let it, your body will get rid of the weight without prompting of any kind from you. When you refuse to work with your body by keeping tabs and counting calories you refuse to let your body change.
Nobody bothered to mention that our bodies can regulate and heal themselves. Nowhere were we taught that our inner feelings and sensations are signals. On the contrary, we were taught to ignore these inner signals. Breathing will help you find yourself. It's the essential component. It will free you from the grasp of your little mind.
When you breathe, you'll also get in touch with the root problems that caused the weight in the first place. Now granted, such issues as self-protection, fear, and lack of discipline might not be the most pleasant emotions to face up to on a sunny Sunday afternoon. In fact, they are so painful that you may just need a bag of chocolate chip cookies to comfort yourself.
But by breathing, you can clear those feelings out of your body for good. Instead of making them disappear by stuffing them back down into your body, breathing can help free you from those feelings. Take a few big breaths into the physical sensation of any emotion and watch what happens. Many times, that's all it takes to move it out of your body. The unpleasantness of emotions comes from holding on to them like the ledge of a building you're about to fall off. When you participate with them, by breathing with them, you can rid yourself of them forever.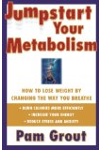 Continue Learning about Breathing Exercises