You will learn pranic breathing in a three-stage progressive exercise routine:
1. Stretching and loosening your diaphragm
2. Pranic breathing
3. Rhythm and retention
As with all the progressive exercise routines, each level builds upon the previous one. The exercises are designed for you to follow in a specific order. You'll build a better energy foundation if you perform them smoothly and properly at each level before moving on to the next level. But they are easy to perform, and you should move through the levels fairly quickly.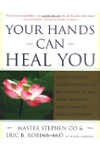 Continue Learning about Breathing Exercise Techniques