The following are the steps for Pushing the Sky exercise:
1. Stand erect but relaxed with arms extended straight down in front of you. Your feet should be a shoulder-width apart.
2. Bend your wrists so that your palms face the floor. Then rotate your wrists inward 90 degrees so that the tips of your fingers are touching. Your elbows will also bow out slightly.
3. From this position, begin pranic breathing with a deep, slow inhale. As you inhale, swing your arms slowly upward in front of you in an arc. Keep your fingertips together and your elbows as straight as you can. Stop when your hands are directly above your head. You should still be holding your breath, and your palms should still be facing upward. At this point, push with your hands upward as if you are holding up the sky. You should feel light but real resistance. As you do this, you'll feel your entire rib cage and diaphragm pulled upward. Push for two to three seconds, relax, then exhale slowly as you let your hands separate and your arms float gently back to your sides. Time your exhalation so that it finishes as your hands arrive at your side.
4. Pause for one or two seconds, then bring the hands back to the starting position and begin again. As you do the exercise, try to begin to feel the energy inside you, especially when you are exhaling. With a little practice, you'll feel a cushion of energy under your hands as you lower them.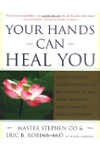 Continue Learning about Breathing Exercise Techniques