The following are the steps for the Looking at the Moon exercise:
1. Bend over at the waist, with arms and hands dangling loosely in front of you. Your knees can be straight, or if you have back problems, they can be bent slightly. From this posture, begin to straighten up and as you do so, begin your pranic breathing. As you inhale, lift and arc the arms straight up until they are directly over your head. Keep your arms and hands straight as you arc upward.
2. From this standing posture with your arms directly overhead, hold your breath, then arch backwards a few inches more. Curve your head and neck a bit more.
3. Form a triangle with your hands by touching your two thumbs and forefingers together. Then look through this triangle and imagine you are looking at the moon. After two or three seconds, straighten back up and exhale slowly while bringing your arms down to your sides. As with the Pushing the Sky exercise, let them float down on the blanket or ball of energy. Really try to feel it.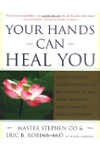 Continue Learning about Breathing Exercise Techniques