The water pump is an optimal technique for four reasons:
-It's simple to learn. You can learn it in an hour and make it work within two weeks.
-It relies primarily on intent and reasonably good form and technique. You don't need perfect visualization skills to use it effectively.
-It draws on the nearly inexhaustible supply of prana in the air, the sun, and the ground. You do not need to deplete your own finite supply of prana.
-It utilizes all three methods of externally drawing in prana. You get the maximum amount of energy.

You begin the water pump technique by asking for divine guidance and the ability to draw in and utilize this gift of healing energy appropriately. This is the divine invocation. You then form your intent to draw in prana through a source chakra and to radiate it from the chakra of your projecting hand to your target. This is the chakral technique. Finally, you use rhythm and retention as you breathe to increase your capacity for energy. This is pranic breathing. Then you use your intent and visualization to project the prana to the depth you want and in the appropriate color.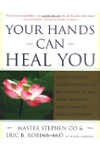 Continue Learning about Breathing Exercise Techniques