To perform the Revitalizing Breath Exercise:
Starting position: Perform this exercise while standing. Begin in an erect posture. Keep your feet and ankles together, your spine and neck straight, and your head facing forward. Your arms are straight down with hands at your side. Keep your fingers together. Keep your mouth closed and your teeth lightly touching.
Exercise: Exhale audibly through your mouth until your lungs are empty. Then inhale deeply, completely filling your lungs. After you fill your lungs, take one final sniff through the nose, and then lock in the breath by tensing all the muscles of your body. Tense your neck, clench your jaw, straighten out your arms and legs, and tighten your torso and buttocks. Squeeze and tense, but don't strain. Most important, squeeze your pubococcygeal or PC muscle. This is the muscle group that runs from the pubic area through the perineum and back to the anus. It controls your urinary and bowel movement functions. Thus, when you contract the PC muscle, it is as if you were trying to prevent yourself from going to the bathroom; you're "holding it," both front and back. For women, squeezing the front portion of the PC muscle is the same as Kegel exercises. Hold your breath and this bodily tension for 5 seconds. Exhale, then release the bodily tension. Perform one cycle of pranic breathing and then relax and be aware of your body for a few moments.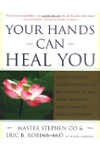 Continue Learning about Breathing Exercise Techniques