To perform the inspirational breath exercise:
Starting position: Perform this exercise while standing. Begin in an erect posture. Keep your feet and ankles together, your spine and neck straight, and your head facing forward. Your arms are straight down with hands at your side. Keep your fingers together. Keep your mouth closed and your teeth lightly touching.
Exercise: Exhale through the mouth. Begin your inhalation, raise your arms to the sides, and gradually swing them out and move them overhead. Keep them straight and fairly tensed throughout. Time your inhalation so that your arms are directly overhead when your inhalation is full and complete. At that highest point, the backs of your hands should be touching. Then sniff audibly and lock the breath in your body. Tense your body and squeeze the pubococcygeal (PC) muscle. Hold your breath and bodily tension for five seconds. As you bring your arms down, pause for a moment at three points on the clock: arms at 2:00 and 10:00; arms at 3:00 and 9:00; arms at 4:00 and 7:00. At each pause release a portion of your breath in a burst through your clenched teeth. As your hands come down to your sides, release the rest of your breath, then release your bodily tension. Perform one cycle of pranic breathing and then relax and be aware of your body for a few moments.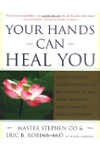 Continue Learning about Breathing Exercise Techniques