Sit in a chair or on a comfortable mat on the floor with your back straight. Essentially, what you will be doing in this exercise is breathing in one nostril and out the other, then in the second nostril and out the first.
Using your index finger (either one) to hold the right nostril closed; breathe in with your left nostril to the count of six. Hold the breath for three counts.
Now, closing off the left nostril with your finger, release the right nostril and breathe out to the count of six.
Still closing your left nostril, breathe in with your right for six counts. Hold for three counts.
Then, closing off the right nostril, release the left nostril and breathe out to the count of six.
Repeat the entire sequence (steps two to five) six times.
By alternating the flow of air through your nostrils, you will experience an unbelievable sense of relaxation, and the balancing effect this will have on your brain will be miraculously tranquilizing.
You can do this exercise as often as you wish, but you should try to do it at least once a day during your week of experimentation. It wouldn't surprise me if you eventually add it to your daily repertoire. It is especially helpful if you think you're going to have a stressful day.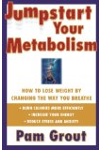 Continue Learning about Breathing Exercise Techniques