Here is how rhythm and retention work. During empty retention, when you compress the belly, deflate the lungs, and hold your breath for a moment, you create a physiological and energetic vacuum. It's comparable to pausing as you fully close a bellows before beginning to draw air in. When you begin your controlled inhale, as you draw oxygen into the lungs, you also pull tremendous amounts of prana into the pores and the chakras. You become highly energized.
During full retention, when your belly is completely expanded and you hold that full breath in your lungs, you're priming your energy pump. It's comparable to pausing just after you fully open a bellows before beginning to pump a blast of air into the fireplace. When you begin your controlled exhale, the energy is condensed and moves with greater force into the cells, organs, and chakras, where it is more fully and easily assimilated.
The right rhythm and retention are simple breathing adjustments, but they make a huge difference in the prana you are able to generate. In Pranic Healing classes, we do experiments to demonstrate the power of pranic breathing with rhythm and retention. We ask a person to stand in the front of the room and breathe normally, while a handful of students remain a few feet away on all sides and try to feel, or scan, the person's aura. Most people can feel it at about 6 inches all around the person's body. As the person begins pranic breathing, the students start feeling their hands being pushed back. If the person performs pranic breathing for as little as 3 minutes, it's not unusual for students to feel the aura expand to 20 feet or even more if the person is particularly strong. When we ask how the person who's breathing feels, invariably the reply is that he or she feels calm and powerful at the same time.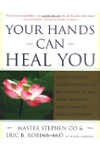 Continue Learning about Breathing Exercise Techniques