With this routine, the longer retention on both the inbreath and the outbreath stimulates the navel, meng mein, and basic chakras even more.
1. Place your tongue on your palate and keep it there throughout the exercise.
2. Inhale for six counts.
3. Hold for three counts.
4. Exhale for six counts.
5. Hold for three counts.
This constitutes one cycle of pranic breathing with the 6–3–6–3 rhythm and retention sequence. Repeat steps 1 through 5 for each cycle. As with the 7–1–7–1 sequence, perform three sets of 10 cycles, with a one-minute rest between sets. (See also the Six Steps Daily Practice Routine at the end of Chapter 4 of Your Hands Can Heal You.)
In Pranic Healing classes, students scan each other while performing the two different breathing rhythm/retention sequences to feel the difference in energy-generation between them. "The energy definitely feels stronger for the 6–3–6–3," says Pranic Healing student Trish Sharpe. "It also feels more natural breathing in for the six-count and holding for three counts."
Continued pranic breathing compounds your ability to generate energy and helps you build a stronger energetic foundation, which enables you to generate a greater amount of prana with less effort in a shorter amount of time.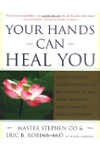 Continue Learning about Breathing Exercise Techniques