To perform optimum breathing rhythm exercise, you should do as follows:
1. Place your tongue on your palate, and keep it there throughout the exercise.
2. Inhale for seven counts.
3. Hold for one count.
4. Exhale for seven counts.
5. Hold for one count.
This constitutes one cycle of pranic breathing with the 7–1–7–1 rhythm and retention sequence. Repeat steps one through five for each cycle. To begin your practice, perform three sets of 10 cycles, with a one-minute pause between sets. The entire practice should take you less than 10 minutes.
As you become more proficient at focusing on the breath, you internalize the rhythm, and won't need to be so aware of it or count it off in your mind. The length of the counts is not as important as maintaining the ratio and the steady pace. But a one-second-per-count rhythm is a good benchmark.
One of the best pacing techniques is to use a pulse count, timing your breathing and retention to your pulse. Using a pulse count also enables you to mark your progress, because as you become more experienced at pranic breathing and meditation, your pulse rate should slow down.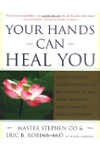 Continue Learning about Breathing Exercise Techniques