As we begin to practice the pumping exercises, we become keenly aware of how much control we actually have over our breath. Do it once a day.
Lie on the floor with your knees slightly bent.
Start relaxing with a few deep belly breaths. Once you've gotten the hang of it, you're ready for the pump.
Inhale through your nose until your belly is round and full like a balloon.
Stop, hold your breath, and lock in that balloon of breath.
Now, while still holding your breath, flatten your back and belly, forcing the balloon of air upward into your chest, so that the chest swells up. Be careful not to let the air come out your nose or mouth.
Then flatten your chest, pushing the ball of air back down into the belly, while arching your back.
Continue this pump like up-down movement until you need to take a breath. At first, this may be difficult to do, but as you gain breath control, you will be able to hold your breath longer, practice longer. Do the movements vigorously and decisively like a piston, stroking upward and downward.
Stop and rest a moment. As you rest, breathing normally, can you feel more space for breathing in the abdomen and rib cage? Does the trunk seem less tight? Does everything in the trunk move more easily and softly as you breathe?
Every time you do this exercise, you will improve your breathing. You'll be taking in more air with less effort. The other thing this exercise does is diminish your hunger by forcing stomach acid down out of your stomach.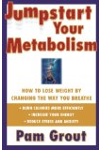 Continue Learning about Breathing Exercise Techniques