To keep your focus on your abdomen rather than your chest during pranic breathing, you should do as follows:
1. Lie down on your back on a firm surface.
2. Place a book on your belly over the navel area. The book should have enough weight that you can clearly feel it.
3. Place your tongue on your palate, and keep it there throughout the exercise.
4. Now, begin pranic breathing. Breathe slowly and deeply, making the book rise and fall on your abdomen with each breath. If you cannot make the book move, add more weight until you can clearly feel the area.
5. Be patient. When you begin to get breath into your abdomen, take away the book. If you lose the breath, put the book back.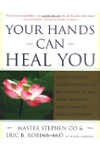 Continue Learning about Breathing Exercise Techniques