Breathing problems can potentially be caused by a number of conditions, including: heart disease, lung infection (pneumonia), a collapsed lung, asthma, smoking, inhalation of fumes, choking, and a chest or head injury. Sudden onset of asthma-like symptoms should be treated with a rescue inhaler. Fear, panic and anxiety may also cause breathing problems, resulting in rapid, shallow breathing, known as hyperventilation or over-breathing. Over-breathing may also occur in more serious medical conditions, including heart attack, bleeding, fever or serious infection.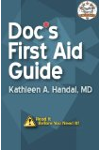 More About this Book
Doc's First Aid Guide: Read It Before You Need It
In a medical emergency, time is of the essence. "Doc's First Aid Guide" is an illustrated, first-aid pocket handbook designed to be used as a quick reference and includes the latest CPR guidelines....
Continue Learning about Breathing Disorder Causes