The two main options of breast reconstruction after a mastectomy include:
Tissue expanders followed by silicone implants or autologous tissue transfer. Radiated breast patients should usually undergo tissue transfer without an implant to prevent scar tissue contracture.
Autologous tissue reconstruction includes both pedicle flaps and free-flaps with microvascular anastomosis.
You can go one of two routes with breast construction after a mastectomy. You can choose saline or silicone implants, which would be inserted under your chest muscle in order to create a mound. Or you could opt for breast reconstruction using your own skin tissue, usually taken from the lower abdomen. Because—while we think you look fantastic no matter what—having even faux breasts can make you feel better about body. Just remember that the sensations you experience in that area will be different from what you were used to. Those old nerve endings are gone. Your new nipples will be tattooed on.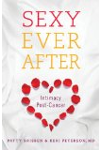 More About this Book
Sexy Ever After: Intimacy Post-Cancer
Recent studies show that 40-100 percent of men and women who have been treated for cancer have experienced some level of sexual dysfunction. Sexy Ever After: Intimacy Post-Cancer will help you...
Continue Learning about Breast Reconstruction Surgery