Radiation therapy should be used in women having a lumpectomy. It is also sometimes used after a mastectomy for women with large cancer tumors or with four or more positive lymph nodes, or when the margins of the surgical removal show some cancer cells. Such treatment can help destroy breast cancer cells that may have been left behind in the area where the breast was. In women that choose breast-conserving surgery and have radiation, there is now a new option that shortens the course of treatment from six or seven weeks to five days. Not everyone is a candidate, but this is being evaluated in a national trial.
There is abundant clinical research data showing that the risk of cancer recurrence in the breast can be cut in half in patients who undergo outpatient radiation therapy following lumpectomy for breast cancer. More recent research data also strongly suggests that even some patients who undergo mastectomy (surgical removal of the entire breast) may benefit from radiation therapy if they have large breast tumors or if they have multiple armpit (axillary) lymph nodes involved with cancer.
www.doctorwascher.com

As with chemotherapy, there are three basic reasons for radiation therapy. These are to:
1. Cure the cancer
2. Stop the cancer
3. Slow the growth of the cancer, relieve symptoms, or pain, or reduce pressure
The best of all, of course, is to be completely cured and cancer free. Your doctors may think that radiation therapy before or after surgery can shrink your tumor to the point that it's unlikely to recur. In the third scenario, radiation therapy can slow down metastatic disease for a tumor that has spread or grown. Radiation therapy is also used to relieve symptoms or pain or reduce pressure.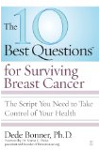 Continue Learning about Breast Cancer