A critical question about cancer is whether or not it has spread to other organs in your body. Cancer starts when cells begin to divide uncontrollably. Eventually, these cells form a visible mass, or tumor. This initial tumor is called the primary tumor.
Cells from the primary tumor can break off and lodge elsewhere in the body, where they then grow into secondary tumors. This process is called metastasis, which means that the cancer has spread.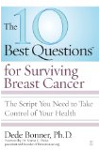 Continue Learning about Breast Cancer

Several types of cancer can form in the breast, making it the second most common cancer that affects American women. Breast cancer affects over 200,000 women each year. The cancer develops when abnormal cells crowd out healthy one...
s, potentially causing a lump in the breast or a bloody discharge from the nipples.
More