Ductal carcinoma in situ (DCIS) is a very common form of breast cancer.
It is limited to the ductal system within the breast. This means it has not yet invaded the tissue substance of the breast.
In the past, DCIS has generally been treated by removing the abnormal tissue and examining the "margins" of where the cancer was located to look for stray abnormal cells.
Whether to add radiation afterwards is difficult to say.
On one hand, studies have shown a decrease in the likelihood that a tumor will return or turn into invasive cancer in those who received radiation compared to those who did not.
On the other hand, more recent views have questioned whether routine radiation is needed. This is especially true if the surgical removal has been meticulous and a pathological study performed. Also, many studies in favor of radiation were done before we had detailed mammographic evaluations after the surgery.
So, the answer to your question about radiation depends upon several factors:
Your individual risk factor for breast cancer
The amount of experience and level of expertise of the surgeon, pathologist and radiologist in removing, evaluating and imaging breast tissue
How often your doctors see patients with DCIS and their level of comfort with one recommendation vs. another
Many patients with DCIS are accessed for their risk of having a tumor return. For example, the Van Nuys system looks at the pathologic appearance, margins around the DCIS, and other factors. In patients with low risk, radiation treatments may not always be recommended.
If you are being treated in a hospital that has access to all the recent recommendations, I would defer to your doctors' recommendation. However, if your hospital does not work with many DCIS patients, it may make more sense to get the post-operative radiation.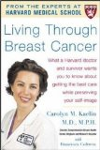 More About this Book
Living Through Breast Cancer - PB
Winner of two prestigious American Medical Writers Association awards A compassionate guide to surviving breast cancer from a doctor who has experienced it from both sides of the stethoscope In...
Continue Learning about Breast Cancer

Several types of cancer can form in the breast, making it the second most common cancer that affects American women. Breast cancer affects over 200,000 women each year. The cancer develops when abnormal cells crowd out healthy one...
s, potentially causing a lump in the breast or a bloody discharge from the nipples.
More