When considering a surgeon for your breast surgery make sure they are board-certified. Also, look at years in practice and number of surgeries they perform annually. Get patient recommendations and evaluations. Ask to evaluated hundreds if not thousands of before and after photographs. Evaluate the doctors malpractice record and seek two if not three consultations.
One of the biggest problems when seeking the advice of a surgeon is trying to understand what his personal biases are. Just like the differences between Republicans and Democrats or liberals and conservatives, everyone has biases, including surgeons.
What in essence you have to understand (and it may be tricky) is how likely your surgeon is to perform one type of breast surgery consistently, instead of using the full spectrum of surgical choices. For example, if your surgeon has strong preferences for doing mastectomies, the newest procedures or breast-sparing options might never even be discussed. Older doctors (ones who graduated from medical school before 1981) favor a mastectomy, which was the standard breast cancer treatment for years. Mastectomies are less expensive to perform than lumpectomies and pay the doctors more. Poorer women or ones who lack health- care insurance have more mastectomies than women in other socioeconomic groups.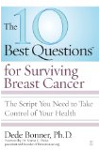 Continue Learning about Breast Cancer