Lymph nodes are bean-shaped filters for your immune system that collect and destroy bacteria and viruses. Their white blood cells (WBCs) fight infections and cancer.
Some breast cancers spread to the lymph nodes under your arm. When the lymph nodes are involved in breast cancer, they are called "positive." When lymph nodes are free of cancer, they are called "negative."
There are three types of lymph node involvement:
1. Minimal (or microscopic) lymph node involvement. Nodes contain only a small number of cancer cells.
2. Significant (or macroscopic) involvement. A particular lymph node or group of nodes is cancerous. These nodes can often be felt by hand or seen without a microscope.
3. Extra-capsular extension. A tumor takes over a whole lymph node and moves beyond the wall of the lymph node into the surrounding tissue.
Knowing how many of your lymph nodes are affected and the type of lymph node involvement you have will help you and your doctor plan the best treatment regime to fight your cancer.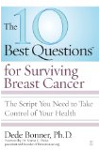 Continue Learning about Breast Cancer