There's just a lot of misinformation. And the other thing is that every woman is different. So if you have a breast cancer diagnosis and you read one woman's blog, well, what she went through may not apply to you. So, you don't want to take it as gospel. You don't want to base your decisions on what she did. You really have to be careful navigating through that stuff.
I recommend that women go to websites where the content is created by people who are actually in the field doing the work and caring for people doing the research, as opposed to blogs.
The information, opinions, and recommendations presented in this article have been compiled from a podcast and are for general information only.
Trinity Health is a Catholic health care organization that acts in accordance with the Catholic tradition and does not condone or support all practices covered in this site. In case of emergency call 911.This site is educational and not a substitute for professional medical advice, always seek the advice of a qualified healthcare provider.
Factual information on breast cancer includes objective descriptions of breast cancer types, stages and treatments. There is a huge number of very useful books and websites on breast cancer. Your family doctor or gynecologist may not know them all, but they can help you get started. Talk to your doctor about websites, books and patient education materials to supplement your knowledge about breast cancer.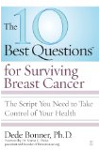 Continue Learning about Breast Cancer

Several types of cancer can form in the breast, making it the second most common cancer that affects American women. Breast cancer affects over 200,000 women each year. The cancer develops when abnormal cells crowd out healthy one...
s, potentially causing a lump in the breast or a bloody discharge from the nipples.
More