The most commonly known radiaton therapy is traditional external beam radiation, which delivers a specific dose to the breast to treat the cancer.
Breast cancer can also be treated with implanted radiation, also known high dose rate brachytherapy. This is when a device is put into the breast to deliver a high dose of radiation twice a day.
Some patients that have had a mastectomy (breast removal) often don't need further treatment. But if the tumor is found to be large in size during the mastectomy, or if the patient had a lot of lymph nodes, they will have postoperative radiation that treats the chest wall and the draining nodule regions.
Trinity Health is a Catholic health care organization that acts in accordance with the Catholic tradition and does not condone or support all practices covered in this site. In case of emergency call 911. This site is educational and not a substitute for professional medical advice, always seek the advice of a qualified health care provider.
There are three types of radiation therapy that your doctor may recommend for treatment:
External beam therapy is a method for targeting and delivering a beam of high-energy X-rays to the location of the tumor. The radiation oncologist should use careful planning to protect the surrounding tissues.
Intensity-modulated radiation therapy (IMRT) is an advanced method that uses computers to deliver precisely controlled radiation doses to specific tumor areas. Treatment is carefully planned using three-dimensional (3D) computerized tomography (CT) images that help determine dosages based on the tumor's shape.
Interstitial therapy (or brachytherapy) is an internal radiation therapy that involves the temporary placement of radioactive materials within your breast. This type of radiation therapy gives you a boost of radiation in a higher dose and in a shorter time than external radiation.
If you have a choice, some radiation oncologists would recommend IMRT. Higher and more effective radiation doses can safely be delivered more precisely to your cancer cells with fewer side effects as compared with conventional radiation therapy techniques.
However, IMRT isn't a magic bullet. As Albert L. Blumberg, M.D., radiation oncologist and vice chair of the Department of Radiation Oncology at the Greater Baltimore Medical Center in Baltimore, Maryland, says, "If there was one obvious right answer, everyone would be doing it and everyone would be treated the same."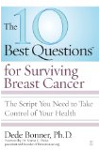 Continue Learning about Breast Cancer Treatment