A prospective breast surgeon should be board certified with the American Board of Plastic Surgery when considering reconstructive surgery. As a Diplomat of the American Board of Plastic Surgery, your doctor will have the experience and judgment to tailor the correct surgical procedure for your breast reconstruction. Whether you undergo silicone gel reconstruction, free flap or autologous tissue transfer, a board certified plastic and reconstructive surgeon who specializes in cancer reconstruction of the breast will have the experience to give you the results you are looking for. The doctor should have hospital privileges, as well as use a facility that is accredited and have a board certified anesthesiologist present during the procedure.
If you are checking on a surgeon, look for the following criteria: board certification, hospital or ambulatory center accreditation, and fellowship in the American College of Surgeons. The initials FACS after a doctor's name signify that he has achieved this fellowship distinction in addition to the board certification. Not all surgeons are accepted, and some choose not to become fellows.
State licensure is also very important. Your doctor or surgeon must hold a valid license to practice medicine for the state in which he treats you.
Also consider where this doctor or surgeon attended medical school, what year he graduated, where he did his residency, and how many total years he has been practicing medicine, along with the years of specialized practice in treating breast cancer. This information may be available on a doctor's Web site.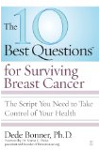 Continue Learning about Breast Cancer Treatment