It really depends on how the cancer presents. You tailor it for each woman. If it looks like it's early, meaning it's just in the breast, maybe gone to the armpit a little bit, then usually surgery is the first step, and often surgery goes hand-in-hand with radiation. So, you might do a lumpectomy, followed by radiation. And then, once that's done, some women have chemotherapy, other women don't. Sometimes you do chemotherapy beforehand, and sometimes you can give a pill, an antiestrogen medication, for 5 to 10 years after all of the upfront treatment is done.
The information, opinions, and recommendations presented in this article have been compiled from a podcast and are for general information only.
Trinity Health is a Catholic health care organization that acts in accordance with the Catholic tradition and does not condone or support all practices covered in this site. In case of emergency call 911.This site is educational and not a substitute for professional medical advice, always seek the advice of a qualified healthcare provider.
In general, breast cancer treatment will depend on the specific type of tumor, size of the cancer and metastatic involvement. Options can include surgical options: lumpectomy, axillary nodal dissection, radiation therapy or simple mastectomy, modifed radical mastectomy, chemotherapy, Tamoxifen and hormonal suppression drugs.
The treatment for breast cancer depends on the stage the cancer is caught:
Stage 1: Lumpectomy, partial mastectomy, radiation
Stage 2: Similar to stage 1, though radiation likelier; chemotherapy an option
Stage 3: More extensive surgery, sometimes preceded by chemotherapy
Stage 4: Surgery; chemotherapy, hormones, other systemic therapies
This content originally appeared on doctoroz.com.
Local versus systemic therapy
Local therapy is intended to treat a tumor at the site without affecting the rest of the body. Surgery and radiation therapy are examples of local therapies.
Systemic therapy refers to drugs which can be given by mouth or directly into the bloodstream to reach cancer cells anywhere in the body. Chemotherapy, hormone therapy and targeted therapy are systemic therapies.
Adjuvant and neoadjuvant therapy
Patients who have no detectable cancer after surgery are often given adjuvant (additional) systemic therapy. Doctors believe that, in some cases, cancer cells may break away from the primary breast tumor and begin to spread through the body by way of the bloodstream even in the early stages of the disease. These cells can't be felt on a physical exam or seen on x-rays or other imaging tests, and they cause no symptoms. But they can go on to become new tumors in other organs or in bones. The goal of adjuvant therapy is to kill these hidden cells.
Not every patient needs adjuvant therapy. Generally speaking, if the tumor is larger or the cancer has spread to lymph nodes, it is more likely to have spread through the bloodstream. But there are other features, some of which have been previously discussed, that may determine if a patient should get adjuvant therapy. Recommendations about adjuvant therapy are discussed in the sections on these treatments and in the section on treatment by stage.
Some patients are given systemic therapy, usually chemotherapy, before surgery to shrink a tumor in the hope it will allow a less extensive operation to be done. This is called neoadjuvant therapy.
If your breast cancer is smaller than 4 centimeters, you would probably be a candidate for lumpectomy or mastectomy. Remember, there is no survival difference between lumpectomy and mastectomy. Radiation therapy treats the "local area," that is, the breast, and you would be treated in a radiation facility. Chemotherapy is administered through an intravenous (IV) line or sometimes by injections and treats the whole body.
The treatment for breast cancer can be divided into 4 areas:
Surgery to remove the tumor - This includes lumpectomy (removing only the area involved) and mastectomy (removing the entire breast), with the addition of lymph node evaluation by sentinel lymph nodes or axillary lymph node dissection. After the tumor is removed, it is evaluated by a pathologist (a doctor who looks at and evaluates cancer cells under microscope using special stains and other means) who will give crucial information that will determine additional treatment recommendations. This will be given in a "final pathology report."
Radiation Therapy - Part of the treatment plan, if lumpectomy was the surgery performed. This can be done via external beam radiation to the entire breast or partial breast radiation therapy. Your radiation oncologist will discuss which is appropriate. After a mastectomy, radiation therapy to the chest wall "may" also be indicated, pending review of the final pathology report.
Chemotherapy - Chemotherapy will be offered depending on the stage of the cancer (size of tumor, number of lymph nodes, spread from area of origin).
Hormone therapy - Offered if hormone receptors (such as estrogen) is expressed (positive) on the cancer cells. Herceptin, a monoclonal antibody, used in treatment if Her-2 neu is over-expressed in the cancer. All the information required to make these determination for treatment will be within the pathology report.
To understand the basic terms used above and learn more about breast cancer visit www.LegacyEducators.com.
Once a diagnosis has been made, there are a number of treatments available for breast cancer. About two in three breast cancer patients are diagnosed with a tumor limited to the breast; doctors usually recommend a lumpectomy (removal of the tumor) or mastectomy (removal of the entire breast), so as to eradicate the disease before it spreads. These surgeries are typically accompanied by a form of radiation therapy.
If one's breast cancer has spread to the lymph nodes, chemotherapy or hormonal therapy may also be necessary.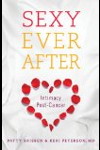 More About this Book
Sexy Ever After: Intimacy Post-Cancer
Recent studies show that 40-100 percent of men and women who have been treated for cancer have experienced some level of sexual dysfunction. Sexy Ever After: Intimacy Post-Cancer will help you reinvigorate your sex life after a cancer diagnosis and/or treatment by helping you redefine sex. Finally, the millions of men and women have been searching for answers and information about their post-cancer love lives (as well as their partners) have a resource. "Sexy Ever After: Intimacy Post-Cancer" will help you reinvigorate your sex life after a cancer diagnosis and/or treatment by helping you redefine sex. ABOUT THE AUTHORS:Patty Brisben is the CEO and founder of Pure Romance™, the nation's fastest-growing in-home direct sales company specializing in relationship enhancement products, intimacy education, and sexual health awareness. With over twenty-five years of experience working with women, she now leads tens of thousands of consultants who are touching the lives of women and couples nationwide. Through Pure Romance's Sexual Health Education Department, Patty assists women in recapturing their sensual and sexual selves following cancer diagnosis and treatment. In 2006 Patty created the Patty Brisben Foundation for Women's Sexual Health, which serves to strengthen, support, and enhance health services provided for women through education, research, and community outreach. Her notable work has put her in the national spotlight, with appearances on "The View" and CNN amongst others and profiles in leading business publications, including Forbes and Entrepreneur.Dr. Keri Peterson obtained her bachelor degree from Cornell University and received her medical degree from Mount Sinai School of Medicine. She completed post-graduate training in Internal Medicine at Mount Sinai Medical Center in New York City and is board certified in Internal Medicine. Dr. Peterson has been in private practice with a prominent medical group on the Upper East Side of Manhattan since 1999. She holds appointments at Lenox Hill Hospital and Mount Sinai Medical Center. She is a member of the American College of Physicians and the American Medical Association. With a demonstrated commitment to the advancement of medicine, Dr. Peterson has several publications in leading medical and scientific journals and has presented at distinguished medical symposiums. Dr. Peterson is a medical contributor and columnist for Women's Health Magazine and also appears frequently on the TODAY Show amongst others.
The treatment techniques available for breast cancer include surgery, radiation, chemotherapy, hormone therapy, and targeted therapy. Most women with breast cancer have surgery to treat the main breast tumor. The primary purpose is to remove as much cancer as possible, determine whether the cancer has invaded local tissue, spread to the lymph nodes under the arm or relieve symptoms of advanced cancer. Because surgery may remove only a portion of the breast tissue and cancer can metastasize from the primary tumor and spread through the bloodstream. There are many different types of breast cancer surgery including the following:
Breast-conserving surgery or partial mastectomy, segmental mastectomy, lumpectomy, quandrantectomy
Total mastectomy without axillary lymph node dissection or sentinel lymph node biopsy
Modified radical mastectomy with axillary lymph node dissection or with sentinel lymph node biopsy
Radical mastectomy with chest wall excision with axillary lymph node dissection or sentinel lymph node biopsy
Many surgeries may need to be preceded (neoadjuvant therapy) or followed (adjuvant therapy) by radiation treatments, rounds of chemotherapy, hormonal suppression or targeted therapy. For instance, when chemotherapy is given after surgery to patients it is called adjuvant chemotherapy and it aims to lower the chance of recurrence at a later date. However, chemotherapy that is given before surgery is called neoadjuvant chemotherapy and it aims to treat, reduce or minimize the cancer. Radiation therapy for breast cancer consists of either "external beam radiation" with series of targeted exposures to high-energy rays or "brachytherapy" with placement of radioactive pellets strategically positioned to kill rapidly dividing cancer cells. Less often, radiation therapy may be used to debulk or shrink a tumor before surgery. Radiation to the breast is often needed after breast-conserving surgery. It is usually given after any chemotherapy.
Chemotherapy for breast cancer is the use of anti-cancer drugs via oral medications, intramuscular injection or intravenous infusions. Because they enter the bloodstream and reach distant parts of the body, chemotherapy is important treatment for cancers that have spread to distant organs or lymphatics. Hormone therapy for breast cancer targets hormone receptors, blocks the effects of estrogen and progesterone that promote cancer cell growth, and thereby reduces the risk of the cancer recurrence after surgery.
Continue Learning about Breast Cancer Treatment