In its earliest stages, breast cancer shows no symptoms. The first noticeable sign is usually a lump in the breast. Other symptoms include:
a change in the breast's appearance, shape or size
breast skin with the texture of an orange peel
breast skin that looks red and inflamed
sores on the breast
nipple discharge
inverted nipple
Not all breast cancer is found through mammography. The most common symptoms of breast cancer are:
A change in the look or feel of the breast
A change in the look or feel of the nipple
Lump, hard knot or thickening
Swelling, warmth, redness or darkening
New pain in one spot that doesn't go away
Spontaneous nipple discharge
Although widespread use of screening mammograms has increased the number of breast cancers found before they cause any symptoms, some breast cancers are not found by mammogram, either because the test was not done or because, even under ideal conditions, mammograms do not find every breast cancer.
The most common sign of breast cancer is a new lump or mass. A painless, hard mass that has irregular edges is more likely to be cancerous, but breast cancers can be tender, soft, or rounded. For this reason, it is important that any new breast mass or lump be checked by a health care professional experienced in diagnosing breast diseases.
Other possible signs of breast cancer include:
swelling of all or part of a breast (even if no distinct lump is felt)
skin irritation or dimpling
breast or nipple pain
nipple retraction (turning inward)
redness, scaliness, or thickening of the nipple or breast skin
a discharge other than breast milk
Sometimes a breast cancer can spread to underarm lymph nodes and cause a lump or swelling there, even before the original tumor in the breast tissue is large enough to be felt.
Breast cancer can cause many symptoms. Sometimes it produces a lump that can be felt or seen. Other times it might cause generalized swelling of the breast or some changes in the skin of the breast or the nipple, like redness or dimpling or nipple inversion or scaling or thickened skin. Breast cancers can also cause pain in the breast, although most breast cancers don't hurt and most breast pain is not caused by a cancer.
Besides these symptoms in the breast, breast cancer can also spread to the lymph nodes and result in a lump under the armpit or pain and swelling in the arm.
Breast cancer can also spread to another part of the body and cause symptoms related to that part of the body, such as headaches, double vision, abdominal pain, or pain in the bones and joints. So if you have any of these types of new symptoms, you should tell your doctor.
But it's also important for everyone to know that breast cancer doesn't usually cause symptoms in the earliest stages. So, you can't wait around for a problem to come up. You should get regular checks that include screening mammograms and breast exams by your primary care provider. This will give you the best chance at early detection—before symptoms start—and the best chance of beating or avoiding breast cancer.
The physical symptoms of breast cancer may be a noticeable change of any type in the breast. These changes may be in the skin, breast tissue, under the arm or in the nipple. You should become familiar with what your breasts look like in the mirror, and what they feel like, and report any changes in texture, shape, or dimpling of the skin to your physician. Skin changes that may be a symptom of breast cancer include thickening of the skin, inward dimpling, or redness of the skin.
At times, breast cancer may feel like a hard firm breast lump, but it may also feel softer, or a less definite breast lump. Bloody or clear nipple discharge can be a symptom of breast cancer.
There is no one symptom of breast cancer, but it's important to report any changes in how your breast feels or looks to your physician.
At times there are no symptoms at all of breast cancer. Today, most breast cancers are identified after routine yearly mammogram, and there are no obvious changes in how the breast feels or looks.
Symptoms of breast cancer vary from breast lumps to discharge to absolutely no signs depending upon the type of cancer and the degree of spread. Sometimes there are palpable bumps in the breast or armpit region that a woman might notice. These are more worrisome for cancer versus normal hormonal breast tissue change when the mass is firm, non-movable (fixed) and/or when they do not fluctuate in size or tenderness. Another sign of possible breast cancer is nipple discharge outside of breast milk during the post-partum time period. Some cancers do not form masses as they are spread throughout the breast tissue. These are more dangerous as they are harder to detect. Regular mammograms as recommended by your physician help to pick up these hidden abnormalities and to find cancers that are in the early stages of growth.
Thanks to screening, breast cancer often is found before a woman has any physical symptoms. Yet a woman should know how her breasts normally look and feel so that she can report any unusual changes to her doctor. Reasons to call your doctor include:
A lump in or near your breast or under your arm.
Thick or firm tissue in or near your breast or under your arm.
A change in the size or shape of your breast.
Nipple discharge (fluid that is not breast milk).
Nipple changes, such as a nipple that points or faces inward (inverted) into the breast.
Changes to your breast skin, areola, or nipple, such as itching, redness, scaling, dimples or puckers.
Keep in mind that most breast changes are not cancer. For instance, nipple discharge can be caused by birth control pills, some medicines, and infections. Or, a breast lump could be a cyst, which is a fluid-filled lump that is not cancer. Early breast cancer usually does not cause pain. Still, any breast changes or pain should be checked out by a doctor.
This answer is based on source information from the National Women's Health Information Center. The contents of this website are for informational purposes only and are not intended to be a substitute for professional medical advice, diagnosis, or treatment. Nor does the contents of this website constitute the establishment of a physician patient or therapeutic relationship. Always seek the advice of your physician or other qualified health provider with any questions you may have regarding a medical condition.
Perhaps the most recognized symptom of breast cancer is a lump or mass in the breast tissue. Although many women go to their doctor after finding a lump, they should also be aware of any other changes to the breast or nipple.
With the different types of breast cancer come a variety of related symptoms. For example, invasive ductal carcinoma (IDC), which forms in the milk ducts, may cause a distinct breast lump that you can feel. Invasive lobular carcinoma (ILC), which forms in the milk-producing glands, may cause a thickening in the breast.
Symptoms of breast cancer vary from person to person. Some common breast cancer signs and symptoms include the following:
Skin changes, such as swelling, redness, or other visible differences in one or both breasts
An increase in size or change in shape of the breast(s)
Changes in the appearance of one or both nipples
Nipple discharge other than breast milk
General pain in/on any part of the breast
Lumps or nodes felt on or inside of the breast
Often the preliminary signs of breast cancer may be silient. Mammograms are important screening tools to investigate the breast for tumors. Early signs may include a palpable mass, skin thickening, bleeding from the nipple, swelling of the breast or a rash. Should you have any of these signs, immediately consult your physician.
Breast cancer is the most common form of cancer among females (and also affects a small percentage of males). It typically manifests with a tumor in the breast. Symptoms to look out for include a lump or thickening in the breast or armpit, a change in the size of the breast, a change in the color of the breast or areola, change in skin texture, nipple discharge, or even a retraction of the nipple.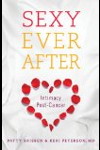 More About this Book
Sexy Ever After: Intimacy Post-Cancer
Recent studies show that 40-100 percent of men and women who have been treated for cancer have experienced some level of sexual dysfunction. Sexy Ever After: Intimacy Post-Cancer will help you reinvigorate your sex life after a cancer diagnosis and/or treatment by helping you redefine sex. Finally, the millions of men and women have been searching for answers and information about their post-cancer love lives (as well as their partners) have a resource. "Sexy Ever After: Intimacy Post-Cancer" will help you reinvigorate your sex life after a cancer diagnosis and/or treatment by helping you redefine sex. ABOUT THE AUTHORS:Patty Brisben is the CEO and founder of Pure Romance™, the nation's fastest-growing in-home direct sales company specializing in relationship enhancement products, intimacy education, and sexual health awareness. With over twenty-five years of experience working with women, she now leads tens of thousands of consultants who are touching the lives of women and couples nationwide. Through Pure Romance's Sexual Health Education Department, Patty assists women in recapturing their sensual and sexual selves following cancer diagnosis and treatment. In 2006 Patty created the Patty Brisben Foundation for Women's Sexual Health, which serves to strengthen, support, and enhance health services provided for women through education, research, and community outreach. Her notable work has put her in the national spotlight, with appearances on "The View" and CNN amongst others and profiles in leading business publications, including Forbes and Entrepreneur.Dr. Keri Peterson obtained her bachelor degree from Cornell University and received her medical degree from Mount Sinai School of Medicine. She completed post-graduate training in Internal Medicine at Mount Sinai Medical Center in New York City and is board certified in Internal Medicine. Dr. Peterson has been in private practice with a prominent medical group on the Upper East Side of Manhattan since 1999. She holds appointments at Lenox Hill Hospital and Mount Sinai Medical Center. She is a member of the American College of Physicians and the American Medical Association. With a demonstrated commitment to the advancement of medicine, Dr. Peterson has several publications in leading medical and scientific journals and has presented at distinguished medical symposiums. Dr. Peterson is a medical contributor and columnist for Women's Health Magazine and also appears frequently on the TODAY Show amongst others.
Continue Learning about Breast Cancer Symptoms