Flaxseed is rich in lignans, which are another form of phytoestrogens, and lignans have been shown to have powerful breast-cancer-fighting properties. At the San Antonio Breast Cancer Symposium, evidence was presented documenting that lignans slow tumor growth effectively. So add a few tablespoons of ground flaxseed to your cereal or your soy drink in the morning.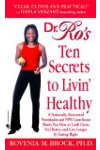 More About this Book
Dr. Ro's Ten Secrets to Livin' Healthy
In this one-of-a-kind book, Dr. Rovenia M. Brock—known as Dr. Ro™ to fans of Black Entertainment Television's Heart & Soul—reveals practical, satisfying ways for African American women to eat...
Continue Learning about Breast Cancer Prevention