As with any serious diagnosis, it is always good to get a second opinion. Many times a confirmation of the diagnosis will solidify acceptance and help you move forward with a treatment plan. Other times, the diagnosis may be incorrect. Remember medicine is as much an art as it is a science.
Many years ago, I helped a woman who called us after being told she had breast cancer after receiving her mammogram results. She had no family history, had no typical risk factors for breast cancer and was struggling to get on track about her decisions and treatment.
Thanks to all of the research that has been done on breast cancer, there are very solid standards for diagnosis and treatment. And one of those includes a biopsy which this patient had not had done. We explained, encouraged, and helped her find another physician who followed the standards of care and got a biopsy. When the results came back negative, she was hugely relieved to know that she did not have cancer.
This is just one example. But errors are made in medicine. Not purposely, not intentionally, but they happen. It is always prudent to question a diagnosis and even further, get a second opinion.
Most women never think to question their diagnosis of breast cancer. If your doctor tells you that you have breast cancer, you probably do.
But breast cancer is complicated and mystifying under a microscope, sometimes even for experienced pathologists, the specialist doctors who read and interpret tissue samples. To make a diagnosis between benign cells (noncancerous) and malignant cells (cancer) is much more complex than you would ever first imagine.
Because of this complexity, the pathology reports diagnosing breast cancer can be wrong. For example, researchers at the Johns Hopkins University in Baltimore, Maryland, found that about 1.4 percent of the time, a pathologist mistakenly diagnoses cancer, misidentifies the type of cancer, or misses a cancer totally. Even more common are pathologists' errors that can significantly change the type of treatment patients receive. These errors can make a world of difference between receiving conservative treatments versus aggressive surgeries.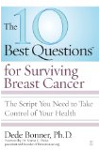 Continue Learning about Breast Cancer Diagnosis