HER2/neu is a protein that is found on the surface of breast cells. The formal name is human epidermal growth factor receptor 2, and it is also known as HER-2, c-erbB-2, ErbB-2, and ERBB2.
The HER2/neu protein sends messages to cells from growth factors outside the cells. Growth factors tell cells, including cancer cells, to grow and divide. The term "overexpression" means there are too many copies of the oncogene (tumor gene).
Everyone has the HER2/neu protein. But in some breast cancers, the cells produce much more HER2/neu protein than normal. These breast cancers are called HER2/neu-positive cancers. Breast cancers that have few HER2/neu protein, or none at all, are called HER2/neu-negative cancers.
HER2/neu-positive breast cancers grow faster than HER2/neu-negative breast cancers. This is an important test of your tumor because it functions not only as a prognostic indictor (HER2/neu-positive tumors are more aggressive) but also as an indicator of the best treatments.
Approximately 25–30 percent of breast cancers have an overexpression (also called "amplification") of the HER2/neu gene. The overexpression of this receptor in breast cancer is associated with increased disease recurrence and worse prognosis. This is not an inherited gene like the ones you get from your mother or father.
Breast cancer scientists and researchers are making progress in finding ways to boost the immune system's ability to fight excess HER2/neu protein. Treatment drugs, such as Herceptin, are now available. Ask your doctor to talk with you about your treatment options if you have an HER2/neu-positive breast cancer.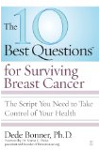 Continue Learning about Breast Cancer Diagnosis