It is okay for you to go to your PCP (primary care physician) with minor questions about your breast cancer. Getting the news that you have breast cancer can be overwhelming and a diagnosis will most likely result in many questions, many of which are appropriate for your oncologist and other specialists on your care team. It's important for you to be able to talk frankly and openly with your cancer care team. They want to answer all of your questions, no matter how minor they might seem to you. Don't be afraid to take notes and tell the doctors or nurses when you don't understand what they're saying.
Trinity Health is a Catholic health care organization that acts in accordance with the Catholic tradition and does not condone or support all practices covered in this site. In case of emergency call 911. This site is educational and not a substitute for professional medical advice, always seek the advice of a qualified health care provider.
Ask the following questions when you are first hearing the news that you have breast cancer, after your breast biopsy results have come back:
How sure are you about my diagnosis of breast cancer?
What kind of cancer do I have? What is the medical name?
Where is the tumor located? What size is it?
How much has the cancer spread? What stage is my cancer and what does that mean in my case?
What is my prognosis? Am I going to die?
What treatments will I need? When will I start them?
How long do I have to make decisions about surgery and treatments?
What are the names and contact details of the oncologists and breast surgeons who you recommend to your patients? Why do you recommend these doctors? How well do you know them personally?
Where do you recommend that I be treated? Why do you recommend this hospital or cancer center?
How can I get more information about my breast cancer? Where can I find emotional, psychological, and spiritual support?
If I am diagnosed with breast cancer, what can I be hopeful about?
Whatever your initial reaction to the news that you have breast cancer, whatever moment or stage of your life has been interrupted by this cancer diagnosis, and no matter who you are, you can benefit from understanding the diagnosis and eventually learning everything you can about breast cancer. Three decades of studies have all confirmed that a well-educated patient—one who takes charge of her disease and its treatment—has the greatest chance of successfully fighting back cancer and living a normal life.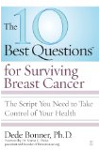 If you have an initial diagnosis of breast cancer, you may want to ask your doctor the following questions:
What type of breast cancer do I have? What stage is it? Is it invasive?
What lab tests were done on the tumor tissue and what did they show? Has my tumor spread to my lymph nodes?
What are my treatment options for this type and stage of breast cancer?
Do I have the option of lumpectomy plus radiation or mastectomy?
What are the risks, benefits, side effects and complications of these treatments? How will they make me feel? Will I lose my hair?
How long will the treatments take? How will I know if they are helping?
Will any of these treatments cause premature menopause or infertility?
Are there clinical trials available? Are they covered by insurance?
What kind of support is available to me? Is there a social worker who can advise me on how to tell my employer about my cancer?
Will I need help around the house during my treatment, such as child care, preparing meals and general housekeeping?
Continue Learning about Breast Cancer Diagnosis