The medical oncologist and breast surgeon should explain your diagnosis in lay man terms and provide therapeutic options and surgical approaches. The specific type of cancer (i.e., ductal carcinoma, DCIS, lobular carcinoma) should be described, including grading and staging of the tumor. Chemotherapeutic agents should be discussed, including risk, benefits and side effects. Options for radiotherapy including long-term risks should be described. Finally, the oncological surgeon should discuss the best surgical approach for your case (lumpectomy with nodal dissection, mastectomy (modified, radical, skin sparing).
The best doctors don't necessarily use the biggest words. What you needed was a simple explanation of your diagnosis and its implications in plain English, not fancy cancer jargon.
Explaining a woman's breast cancer diagnosis is something that breast specialists do all the time. That means that your doctor should have had plenty of opportunities to practice and perfect his spiel before you walked into his office.
At minimum, your doctor should have showed you your X-rays and given you a copy of your pathology report while explaining the key sections and conclusions. The best doctors are skillful at explaining complex disease processes and treatment plans in simple language. Ideally, your doctor volunteered information that you may not have thought to ask for, such as the possibility of using complementary medicine or participating in a clinical trial, and given you additional sources of information about your type of breast cancer.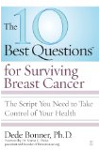 Continue Learning about Breast Cancer Diagnosis