The types of breast cancers are categorized according to how they look under the microscope. Many breast cancers are actually combinations of different types of coexisting cancer cells. It's possible for your biopsy results to come back as one type and a follow-up mastectomy or lumpectomy to show that other types are present in the same tumor. Keep in mind that for now, you and your doctor may not know the whole story.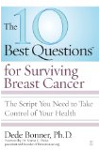 Continue Learning about Breast Cancer Diagnosis
Beyond a breast exam or mammogram, there are various tests and methods for doctors to diagnose and track progress of breast cancer. The process involves imaging and lab tests, including ultrasounds, MRIs, a breast biopsy and even ...
bones scans to locate tumors and stage the cancer. A medical oncologist or breast surgeon help explain a breast cancer diagnosis and provide treatment options. Learn more about diagnosing breast cancer with expert advice from Sharecare.
More