The best way to avoid revisional breast surgery is to undergo the safest and best breast augmentation in the first place. Implants that are too large or placed in a suboptimal position can lead to increased dissatisfaction and the need for a revision.
Some patients are not immediately satisfied with their initial results and may opt for a revision. The implants may be uncomfortable, poorly positioned, or asymmetrical. In other rare instances, an implant may be underfilled or it may have ruptured.
It's important to remember that breast implants are subject to the same forces as natural breasts, such as gravity and stretching skin. The implant may be well placed to begin with but migrates over time. Some patients may also require a procedure to repair hardened scar tissue, known as capsular contracture. A revisional breast procedure may be done years after the initial augmentation surgery to compensate for these and other factors.
The most common natural phenomenon causing patients to return to our office after breast surgery is scar tissue formation with hardening of the breasts, referred to as capsular contracture. Apart from capsular contracture, another common reason for breast revision surgery is that the initial implant was placed improperly. I see this on a weekly basis with patients who have their breast implants placed through the navel (transumbilical) or under the armpit (transaxillary approach). Let's face it, inserting an implant through the belly button and tunneling all the way under the muscles to the breast seems like an awfully long distance. In actuality, it is, and results from these procedures can be very unpredictable. While patients sometimes ask for these types of approaches because they leave no scars on the breast itself, I still don't believe that it is a good trade-off if you end up unhappy and deformed.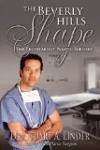 Continue Learning about Breast Augmentation