We live in a world of wires. In computers, they connect the central processing unit to the monitor. In braces, they help shift the position of teeth. On skyscrapers, they keep window washers from falling. In bras, they do the same for breasts. Even in a society with cell phones and wireless Internet access, we still rely on wires for so many things-especially in our houses.

Strip a house of its siding, drywall, and insulation, and you'll see a labyrinth-like system of wires that snakes through the framing to supply power to every room. Everything flows in and out of one central station-your fuse box-but ends with you turning something on, whether it be a light, a TV, or a stereo to play your Jessica Simpson CD. Power generates action. Without a strong power source, your house would merely be a three-bedroom, two-and-a-half-bath turtle shell.

Your anatomical fuse box-your brain-has the same kind of responsibility. It has the power to control everything your body does. Your brain flips all of your body's switches. Most importantly, though, your brain is what makes us human because it gives us the power to dream, imagine, reason, understand square roots, fall in love, fall in lust, invent flying cars, feel sorry about calling the boss a four-letter word, feel even sorrier for doing it to his face, joke, pray, and do the billions of things that so many other species can't.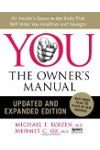 Continue Learning about Brain Health